Myers Briggs Type Indicator Assessment (MBTI)

Learn more about your personality type so you can enhance your present and future decisions. 
Contact Eileen
to take the on-line MBTI assessment, then schedule a coaching session with Eileen to interpret your results.
---
Designing Your Life: The Too Young To Retire Series (2Y2R)

This is a 6-week tele-class, based on the popular book Too Young To Retire: 101 ways to Start the Rest of Life by Marika and Howard Stone.
The class will be facilitated on the phone, for 6 consecutive weeks and each class is 90 minutes in length. The book is included in your price for the series. It is an interactive class which means that each person contributes and participates so that you get the maximum benefit from the collective wisdom, support and connections of the group. This makes the class more fun and dynamic.
Here are some of the topics we will discuss:
The New Retirement or Un-Retirement Concept
Money: How Your Relationship With it May Affect Your New or Un-Retirement
Work: Reworking work: How Much, When, and Where
Volunteering/Civic Engagement: Value of Giving Back
101 Ideas for the Open Minded
Wellness: Body, Mind and Spirit
Leisure: Getting the Balance Right for You
Next Steps
Spend 6 weeks with other like-minded people in this powerful and fun workshop series and you will be well prepared to shape a future based on well considered choices. You will make some new friends, too, all within the comforts of your own home.
Experience how this powerful interactive learning process will provide you with the clarity of what matters to you as the class supports you in setting goals and taking action. Creating new possibilities for yourself is what 2Y2R is all about.  Contact Eileen for next available tele-class.

---
Now What? 90 Days to a New Life Direction® Program

Actively discover with Coach Eileen, your new life direction using a program based on Laura's Fortgang's book, "Now What? 90 Days to a New Life Direction."
This program provides 12 hours of coaching, along with Laura's book and workbook complete with exercises and tools.  Contact Eileen for more information.
---
SUN Program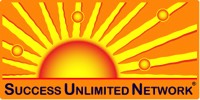 Coach Eileen works with you on a sustainable comprehensive system for providing order and serenity in your life.
This program is for you if you love structure and "to do" lists.
A binder is included which comes loaded with lists, exercises and tools which help track progress. It uses 3 proven proprietary processes: The Results Game, The Well Being Game, and Guidelines for Living. This program provides 16 hours of coaching with Eileen. Contact Eileen for more information.
---
SHIFT-IT Coaching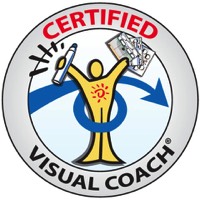 With this very FUN program I coach you to identify your goals, overcome barriers and help you develop an action plan all using VISUALS. I both figuratively and literally draw out your responses and then draw them on 17 visual templates within 7 Stages of the Visual Coaching Process (SHIFT-IT) developed by pioneer Visual Coach, Christina Merkley. With 87% of the population being visual thinkers, this way of coaching can move you forward faster as you literally SEE the passageways of your life along with your action plans. The drawings are yours to keep, to motivate and move you forward as well as a reminder of where you are and where you are going and keep you on track. This can be done on the phone as well as in person. The drawings will be emailed to you so you can frame ones that most motivate you, as many clients have done.  (I also can customize this process to your needs.) Contact Eileen for more information.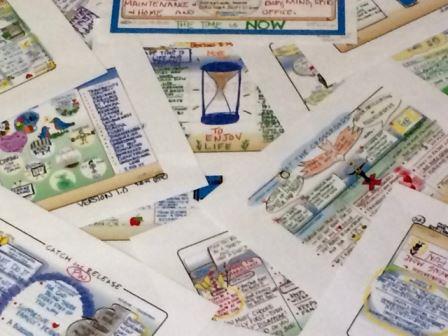 The SHIFT-IT name is an acronym:
S

atisfaction Interrupted
Harvest Your History
Investigate Your Now
Focus on Your Future
Trouble at the Border
Ink It, Don't Just Think It
Take Action